Madrid All Day Tour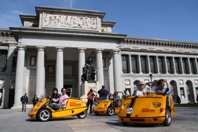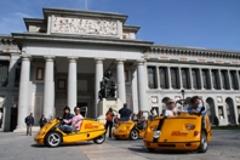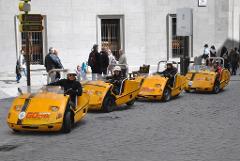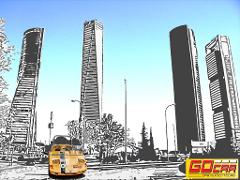 Duración: 4 Horas (aproximadamente)
Código de producto: Allday
Book Now
Price per GoCar (Max 2 people per GoCar).
Spend half day exploring Madrid at your own pace.
Combine all of the available routes for a grand tour of Madrid from the amazing Historic Tour to the stunning Cosmpolitan Tour, which will take you to the most emblematic sights of the city.
Or you can mix and match the three routes and visit the attractions you want to see the most or grab our map and go freestyle to explore wherever you want within the city limits. The choice is yours.
The Half Day Tour allows you to take your time and take detours, stop for shopping, visit some of the attractions you see, enjoy coffee & tapas in a secluded plaza.
Tour Highlights:
(1) Historic Tour with extension to the Stadium At. Madrid
TEMPLO DEBOD ● PLAZA ESPAÑA ● SENADO ● PALACIO REAL ● CATEDRAL DE LA ALMUDENA ● PUENTE SEGOVIA ● BASÍLICA DE SAN FRANCISCO EL GRANDE
PUERTA DE TOLEDO ● ESTADIO FÚTBOL AT. MADRID ● FÁBRICA MAHOU ● MERCADO DE LA CEBADA (extension to the Stadium Vicente Calderon of At. Madrid)
BARRIO DE LA LATINA ● PLAZA DE LA VILLA ● MERCADO DE SAN MIGUEL ● PLAZA MAYOR ● PUERTA DEL SOL ● PLAZA SANTA ANA ● TEATRO REAL ● GRAN VÍA ● TORRE DE MADRID
(2) Cosmopolitan Tour with the extension to Plaza de las Ventas and the Stadium of Real Madrid
GRAN VÍA ● BANCO DE ESPAÑA ● PLAZA CIBELES ● AYUNTAMIENTO ● PUERTA DE ALCALÁ ● PARQUE EL RETIRO ● ESTACIÓN DE ATOCHA ● MUSEO REINA SOFÍA ● MUSEO DEL PRADO ● IGLESIA LOS JERÓNIMOS ● LA BOLSA ● PLAZA DE LAS VENTAS ● BARRIO DE SALAMANCA
PASEO DE LA CASTELLANA ● MUSEO CIENCIAS NATURALES ● CIUDAD FINANCIERA (ZONA AZCA) ● ESTADIO FÚTBOL REAL MADRID (extension to the Stadium Santiago Bernabeu of Real Madrid)
BARRIO DE CHUECA ● TRIBUNAL DEL SUPREMO ● PLAZA DE COLÓN ● PASEO RECOLETOS ● CALLE ALCALÁ ● GRAN VÍA
GoCar Rental Rates (for 2 people per car) - all inclusive tour price covers:
Two registered drivers Insurance (additional Collision Damage Waiver available)
CDW obligatory for 4 cars or more
Helmets
One full fuel tank
Different tours can be booked at any time of the day from Monday to Sunday, between 10 AM and 6 PM.